Last Updated on April 13, 2017 by Marie Bautista
It's beginning to look a lot like Christmas!
Look! In this mountain city in a tropical country where I live, days are starting to look like this:



And Malls are having huge weekend sales!!!!



(I am drooling!)
Not to be outdone, Lazada, my favorite online retailer, is preparing to take cyberspace by storm with the Online Revolution!
What is the LAZADA ONLINE REVOLUTION???
Starting on November 11, 2014, witness and be a part of the biggest sale of the year in Southeast Asia. I swear this is huge!!!
How huge? Well, this is set to rival lang naman Black Friday, Cyber Monday and Singles Day.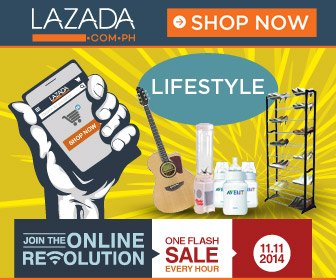 Be prepared for a month of sales, discounts and promotions with the best deals under one digital roof!
(No crowd to fight, no crowded elevators, no "oh-I-so-want-this-bag-but-I-gave myself-some-time-to-decide-and-when-I-came-back-it-was-gone feeling).
Do you think Lazada has "got it all for you?"
Lazada is the ultimate one-stop shopping destination with the widest choice of products online, from mobile phones to tablets and consumer electronics to fashion, household goods, toys and sports equipment.
Online shipping is also a breeze since it provides fast, intuitive and secure online shopping. Online shoppers have access to a best-in-class mobile shopping experience via apps and/or the mobile site. For added convenience and peace of mind, Lazada offers the widest reach of delivery and cash-on-delivery service, so shoppers from all over Philippines can buy now and pay only on arrival.
ONLINE REVOLUTION: LAUNCHES WITH A BANG ON 11 NOVEMBER


Visit www.lazada.com.ph/11-11on the 11th November as the Online Revolution launches with a day of mega sales. There will be a flash sale every hour from 11am to 11pm, with up to 250 of deals across each category.
HERE ARE LAZADA'S UNBEATABLE DAILY DEALS:


.MasterCard Monday – enjoy 10% off when you pay with a MasterCard
Trendy Tuesday – find great bargains on the hottest items in Fashion, Home & Living and Watches
WOW Wednesday – go crazy with up to 70%off on products across all categories. This offer is exclusive to Lazada App users. Download Lazada App (Android &iOS) to have the chance to participate to this WoW (Win on Wednesday)
Tech Thursday – get tech-savvy with this steal on our latest technology gadgets and innovations
Flashsale Friday – it's fastest fingers first every Friday for timed deals and steals. Ready, get set, click!
Wireless Weekends–save money on-the-go with our mobile exclusive sales
For more updates and details on the upcoming Online Revolution Month, please subscribe to our channels via Facebook (www.facebook.com/LazadaPhilippines), LINE (@LazadaPH) and WeChat (@Lazada_PH).
Bargain hunters can also visit Lamido, Lazada Group's online marketplace, for other revolutionary deals. Lamido is a C-to-C buy and sell platform, empowering merchants and consumers an easy way to conduct safe transactions.
ONLINE REVOLUTION: LAMIDO'S DAILY OFFERS
Visit http://www.lamido.com.ph/revolution/for more Online Revolution promotions from our sellers.
Phone Raffle on Facebook – stand a chance to enjoy the best phone deals from 1 – 10 November for Facebook fans who tag 11 of their friends and share Lamido'spost
Power Bank Raffle onTwitter – find bargains on power banks from 1 – 10 November on Twitter
WeChat Flash Sales – get special discounts off 11 items in flash sales from 10am – 11pm
Shipping Deals – enjoy 20% to 80% off shipping for the top 20 products across 11 categories
Don't miss this great sale!
marie


ABOUT LAZADA
Lazada is Southeast Asia's largest online shopping mall, with operations in Indonesia (www.lazada.co.id), Malaysia (www.lazada.com.my), Philippines (www.lazada.com.ph), Singapore (www.lazada.sg) Thailand (www.lazada.co.th) and Vietnam (www.lazada.vn).
Launched in March 2012, Lazada has grown rapidly to include over 2,000 employees across Southeast Asia. The company has an online footprint of approximately 2 million daily visits to its websites, and the largest Facebook following in Southeast Asia with close to 8 million fans.
Lazada is pioneering eCommerce in the region by providing customers with an effortless shopping experience with multiple payment methods including cash on delivery, extensive customer care and free returns. Lazada features an extensive product offering in categories ranging from consumer electronics to household goods, toys, fashion and sports equipment.
Lazada is part of the Lazada Group which also includes the C2C platform, Lamido.

About Lamido
Lamido is a wholly owned subsidiary of the Lazada Group, and embodies in it the very same culture that made Lazada the number one shopping mall in Southeast Asia. Operating in four countries across Southeast Asia which includes Indonesia (www.lamido.co.id), Malaysia (www.lamido.com.my), Philippines (www.lamido.com.ph) and Vietnam (www.lamido.vn/), Lamido is a buy and sell platform that provides merchants and consumers an online marketplace where they can conduct easy and safe transactions.

About the Online Revolution
The Online Revolution is the Southeast Asian version of Black Friday or Cyber Monday. But compared to the Western event Black Friday, Online Revolution is a month-long sale from participating companies or shopping websites in Indonesia, Malaysia, Thailand, Vietnam, and the Philippines. The event kicked off in November 2014 and will be an annual event.